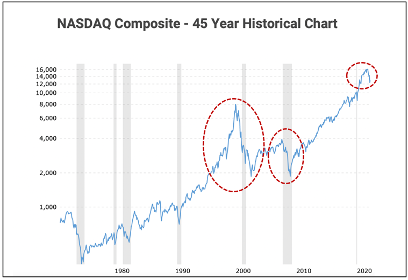 "We can get a clear picture when expanding the current market into a broader historical cycle. Compared to the collapse of the Internet bubble in 2000 overlaid on the 9/11 attacks in 2001, and the 2008 global financial crisis, the current market condition is still only the "early winter" according to the Nasdaq index trends over the last 50 years." — Peter Cheng, Founding Managing Partner of Eminence Ventures.
Chinese startups and their investors are facing significant challenges from constant COVID lockdowns and a slowing economy. During these uncertain times, founders must adapt fast in order to survive and thrive. Eminence shares the following six recommendations with our founders.
1. Formulate strategic plans based on two numbers: ARR and cash flow
Founders should re-evaluate their goals based on two indicators: cash flow and annual recurring revenue (ARR).
· For companies with more than 12 months of cash runway and ARR exceeding RMB 40 million, it is important to improve capital efficiency, especially in sales and marketing. Founders should focus on maintaining customer success and satisfaction in order to safeguard contract renewals.
· For companies with less than RMB 40 million in ARR or those looking to fundraise within the next 12 months, we urge founders to immediately find ways to cut costs and kick off fundraising ASAP. It is critical to save cash to weather the storm.
· For profit-generating companies or those with abundant cash reserves, now is a great time to consider strategic investment or acquisition and hire more talents.
2. Companies should downsize if their average employee effectiveness index falls below 500K.
Every entrepreneur should pay attention to a simple but crucial index, the average employee effectiveness index (ARR/ total number of employees). We believe that RMB 500K is the benchmark for Chinese SaaS firms. Founders should stay vigilant even before the index score breaks below the 500k threshold. If a company has an index score less than 500K, we highly recommend entrepreneurs act swiftly in downsizing their teams. Additionally, the pandemic will likely cause unexpected contract delays, further challenging a company's employee effectiveness score.
3. Focus on getting funded at more reasonable valuations.
The private market has been under significant pressure primarily driven by the rapid and sizable decline of SaaS valuations in the public market. Some public SaaS companies saw their market capitalization halved and their price to sales (P/S) ratio dropped to 6 to 8 times from 20 to 30 times from only a short few months before. As the correction permeates the private market, SaaS startups will no longer be able to get term sheets with flying valuations 30 times or even 100 times of P/S. SaaS founders should recognize the changing tides, adjust their expectations fast, and focus on obtaining enough funding to weather the storm.
4. Review existing business model and always have a Plan B
Today, surviving the downturn should be the top priority for a startup, which means that all founders need to have a well-thought-out Plan B. In addition to fundraising, founders should take the opportunity to refresh and improve their business models. Aside from budget control measures, founders should prioritize core business units and control resource drain from new product lines. For early-stage companies, it is even more critical to find product market fit.
5. Maintain transparency and open communication
Entrepreneurship is a high-risk business, and those who survive are the winners. We urge entrepreneurs to stay transparent with employees, especially when announcing layoffs or product line modifications.
6. Take advantage of the downturn to upgrade team
A crisis is an excellent opportunity for a company to stress test and upgrade its organization. A downturn offers an ideal opportunity for founders to identify high quality talents with strong leadership and execution skills within the organization. Furthermore, it is also a great time to recruit new top talents in preparation for the recovery.